Cut of the spade for the new shopping centre in Heiligenhaus in the Rhine/Ruhr: Fast implementation planned for the "Forum Hitzbleck"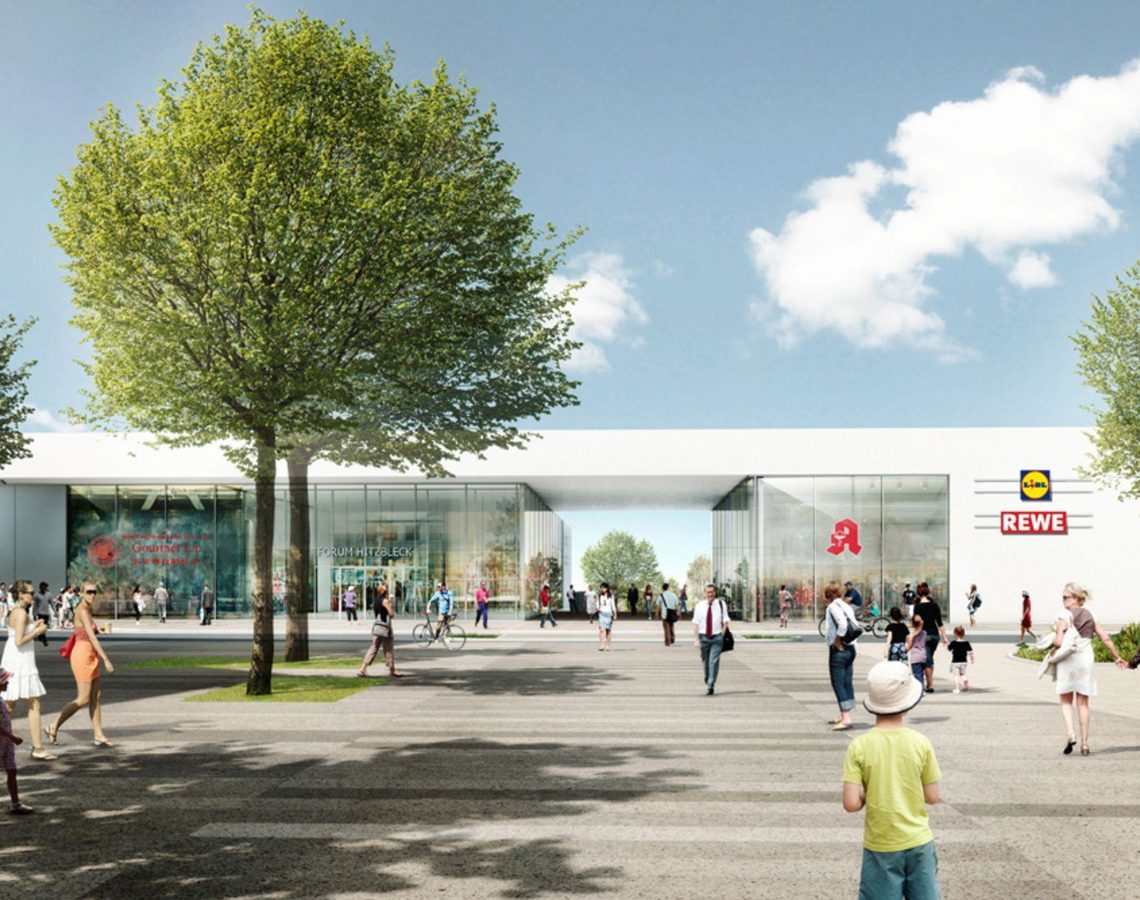 +++ HBB starts constructing the shopping centre +++ Completion of the project set for autumn 2020 +++ Significant inner-city project with many new tenants +++
Heiligenhaus, 18 June 2019. The wait has come to an end. Now construction of the shopping centre in the inner city of Heiligenhaus is to start. Herr Michael Beck, Heiligenhaus Mayor and Herr Reinhard Mussehl, HBB's commercial project manager, together made the symbolic first cut of the spade, so that the project may prosper.
The difficult demolition work and preparation of the ground had earlier been completed by the Moß company from Lingen (Ems) in Lower Saxony. Immediately thereafter, construction was started, which is to be carried out by the general contractor instructed by HBB, "Bauwens" from Cologne. "Bauwens" is an internationally active firm that has already implemented several commercial projects with HBB.
Completion of the project is scheduled for the autumn of 2020. Only due to close collaboration between the town, investor and construction company could such an early date be achieved. HBB plans for a shopping centre on land close to the inner city with the full-service grocery store, Akzenta, under the same roof as the Rewe Dortmund Group and the food discounter, Lidl, which is setting up on this site in a new and modern way. Both these stores are to be complemented by specialist stores, smaller shops and the foodservice industry. Over more than 9,000m2 of rental space and approx. 260 parking bays, a luxurious and attractive retail range is on offer to customers in Heiligenhaus.
About HBB
The HBB group of companies with its head office in Hamburg has been active in the property sector for almost 50 years as an investor and project developer. Across Germany, a myriad of retailers, offices, hotels, senior citizen and other real estate has been built. HBB considers itself to be a specialised property investor with the ambition to create long-term value. Instead of maximising short-term profit, a focus of sustainability and compatibility has been laid upon the buildings. HBB is an owner-managed business and has access to a well-trained team of around 60 employees. "HBB Centermanagement GmbH & Co. KG" has been entrusted with other Shopping Centres, among others in Gummersbach, Hanau, Nidderau, Ingelheim, Langenhagen and Munich.
Media contact:
"HBB Hanseatische Betreuungs- und Beteiligungsgesellschaft mbH"
Harald Ortner, Managing Director
Tel.: +49 (0) 40 60 09 07 – 110
Email: ortner@hbb.de
Internet: www.hbb.de