New retail park in Hilpoltstein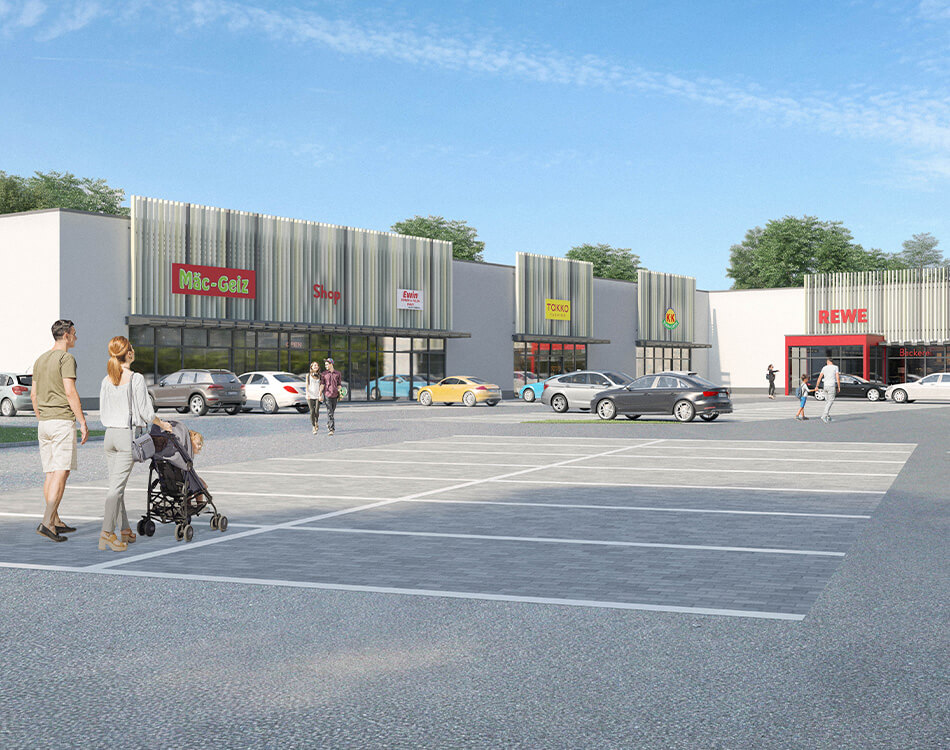 Hamburg, 25/08/2020. For a long time, the former Elsbett area on "Industriestrasse" in Hilpoltstein with its distinctive round building lay fallow. In the meantime, a modern retail park has been built here, which will open its doors on 10 September 2020.
The Bayreuth-based company "Markgraf" only needed 13 months to set up the L-shaped project; the planning was carried out by the architects "nhp" from Seevetal. Due to the adjoining stream, in future the property will be called the "Gänsbach Centre", and an appealing lamellar facade ensures an attractive appearance.
With around 2,400m², the Rewe supermarket "Oliver Jäschke" is the anchor tenant of the retail park centre. "Takko Fashion" with approx. 500m², the "K + K" shoe centre with approx. 350m² and a "Mac Geiz" branch with around 440m² complete the range. The "Schmidt" bakery and "Ewin Döner" take care of gastronomic well-being. Contract talks are currently underway for the only remaining space of around 65m².
It was agreed in advance with the city which ranges may be represented in the future, so that the centre complements and does not compete with the city centre. The "Gänsbach Center" has a total rental area of around 4,000m² and has 125 spacious, ground-level parking spaces.
About HBB
The HBB group of companies with its head office in Hamburg has been active in the property sector for 50 years as an investor and a project developer. Across Germany a myriad of retailers, office, hotels, senior citizen and other Real Estate has been built. HBB considers itself to be a specialised property investor with the ambition to create long-term value. Instead of maximising short-term profit, a focus of sustainability and compatibility has been laid upon the buildings.
HBB is an owner-managed business and has access to a well-trained team of around 90 employees. "HBB Centermanagement GmbH & Co. KG" has been entrusted with other Shopping Centres, among others in Flensburg, Gummersbach, Dresden, Hamburg, Hanau, Langenhagen, Munich and Weiden.
Further information:
"HBB Hanseatische Betreuungs- und Beteiligungsgesellschaft mbH"
Point of contact – Harald Ortner
Tel.: +49 (0) 40 60 09 07 – 110
Email: ortner@hbb.de