New Senior Citizens' Retirement Home, being close to the centre, with graceful architecture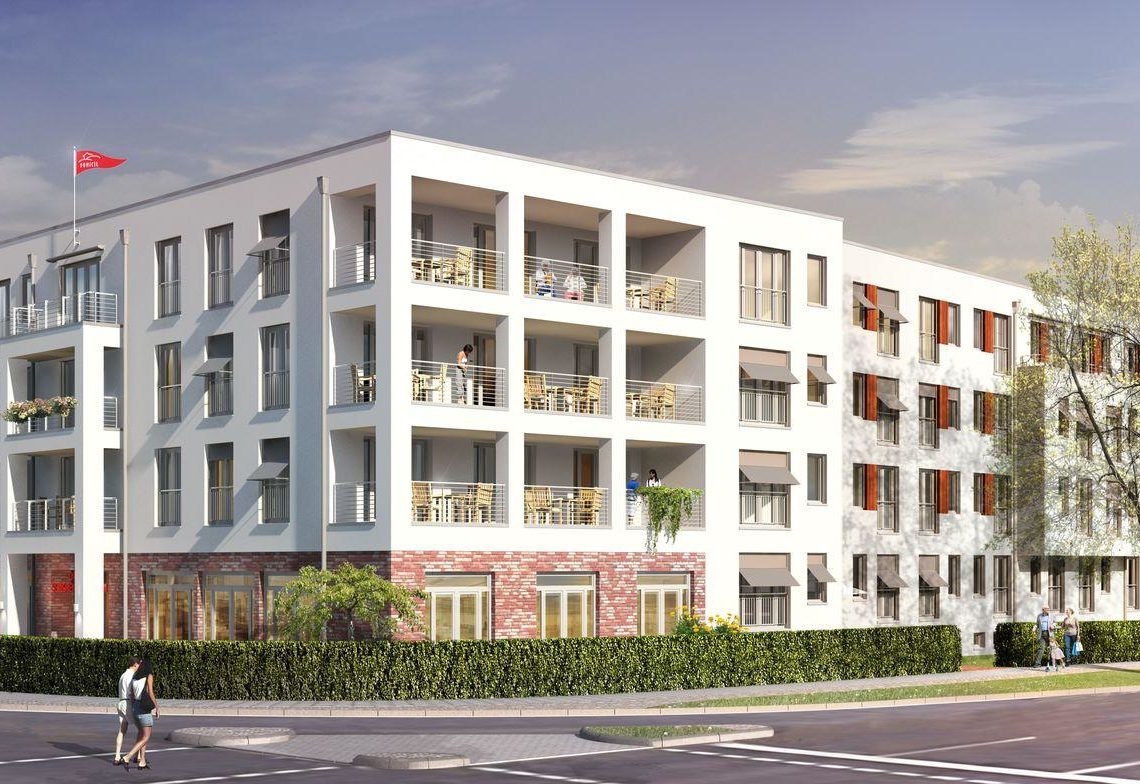 Bayreuth, May 2019: The Hamburg business group HBB, for and on behalf of the "Scheck Zweite Grundbesitz KG" is building the DOMICIL Senior Citizens' Retirement Home in the "Kreuz" area of town in"Preuschwitzer Straße". Construction has been entrusted to a capable building company. The successful firm, "Riedel Bau GmbH & Co. KG" from Schweinfurt will start building on-site in March of 2019. The opening of the house is scheduled for the 3rd quarter of 2020.
Not far from the Mistelbach municipality in the Kreuz area, the new building with a net surface area of around 8,883m² will be created. The new Retirement Home will then offer 168 care places to its future residents. The construction project was planned by the architects' office, specialising in care homes, "Broll & Förster" from Berlin. Clear lines and lots of daylight are the main characteristics of the four-storey building, arranged in the form of a "L" with the alignment of the top-quality gardens with "Rabensteintraße". The graceful architecture impresses by its cubic design with many, white plaster surfaces and clinker element accents on the ground floor. The bright and friendly appearing building was designed to be in harmony with its surroundings.
The house lives up to DOMICIL's motto, "Prime of Life". The chance for senior citizens to enjoy an attractive urban environment has a great importance for DOMICIL. The rooms considerably exceed the minimum residential home standards and allow the residents to personalise them, if desired, by moving in their own furniture. Thanks to an in-house kitchen and laundry, care for the residents and staff is ensured. As with all DOMICIL accommodation, the house in "Preuschwitzer Straße" in Bayreuth also features a lovingly laid-out, private garden with selected greenery, inviting either a stroll or to linger there awhile. "The residents should have the feeling of being hidden away, with maximum security being provided," according to HBB's Managing Director, Oliver Radünz.
Collaboration with the town of Bayreuth in the request for planning permission, as well as building permits was good, constructive and targeted, Radünz explained.
Investment in the new Retirement Home amounted to around 25.0m Euros. Around 60 to 80 new long-term jobs will be created.
Further information:
On behalf of "Scheck Zweite Grundbesitz KG":
"HBB Hanseatische Betreuungs- und Beteiligungsgesellschaft mbH"
Harald Ortner
Tel.: +49 (0) 40 60 09 07 – 200
Email: ortner@hbb.de