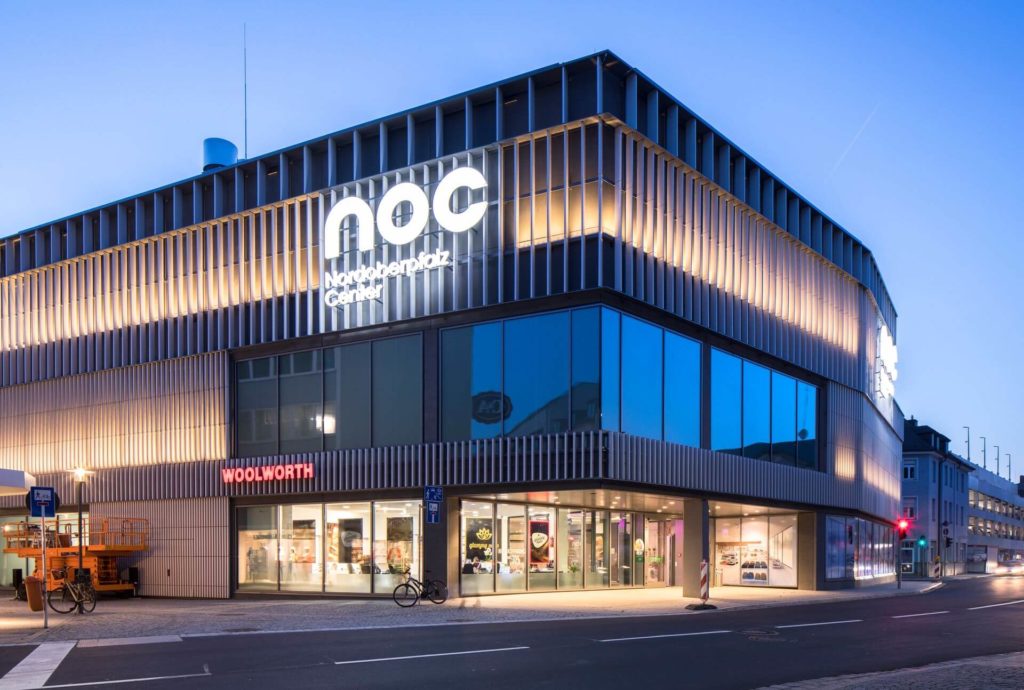 Welcome to the shopping center "NOC
The Nordoberpfalz Center "NOC" forms the new shopping focal point at the most central location of the porcelain city of Weiden as a link between the established pedestrian zone with its vibrant retail trade and the old town with its rich gastronomic offerings.
Weiden is the only city in the northern Upper Palatinate that has a core catchment area of around 140,000 inhabitants (+ 105,000 regional customers) like a major city. Due to its position, the focus is on a total of 300,000 customers. Additional potential is offered by the U.S. military base at Grafenwöhr, with a good 25,000 soldiers and civilians who head for Weiden to run errands outside their own infrastructure, and the West Bohemian region in the Czech Republic with over 30,000 inhabitants, for whom the city of Weiden serves as a shopping destination alongside the major city of Pilsen (pop. 170,000).
Good accessibility is ensured by the directly adjacent new parking garage (480 parking spaces) and the other nearby public parking garages as well as the regional public transportation hub central bus station and the main train station. With over fifty additional bicycle racks near the entrance, the increasing interest in cycling is met. Customers who reach the "NOC" electrically powered can recharge their cars and bicycles while shopping.
The "NOC" – Nordoberpfalz Center Weiden compensates to a large extent for the department store that used to be located there with its regional supply function and supplements the store layouts in the established locations, which are unsuitable for modern retail concepts, with areas for the settlement of contemporary concepts that have wanted to move to Weiden for a long time or are also partially hindered in their further development in the existing stock. In particular, larger-area fashion providers and fresh concepts are in urgent demand even into the extended catchment area and will have a correspondingly strong appeal.
The opening took place in September 2019.