Restructuring of Hamburg's "Krohnstiegcenter" at "Langenhorner Markt"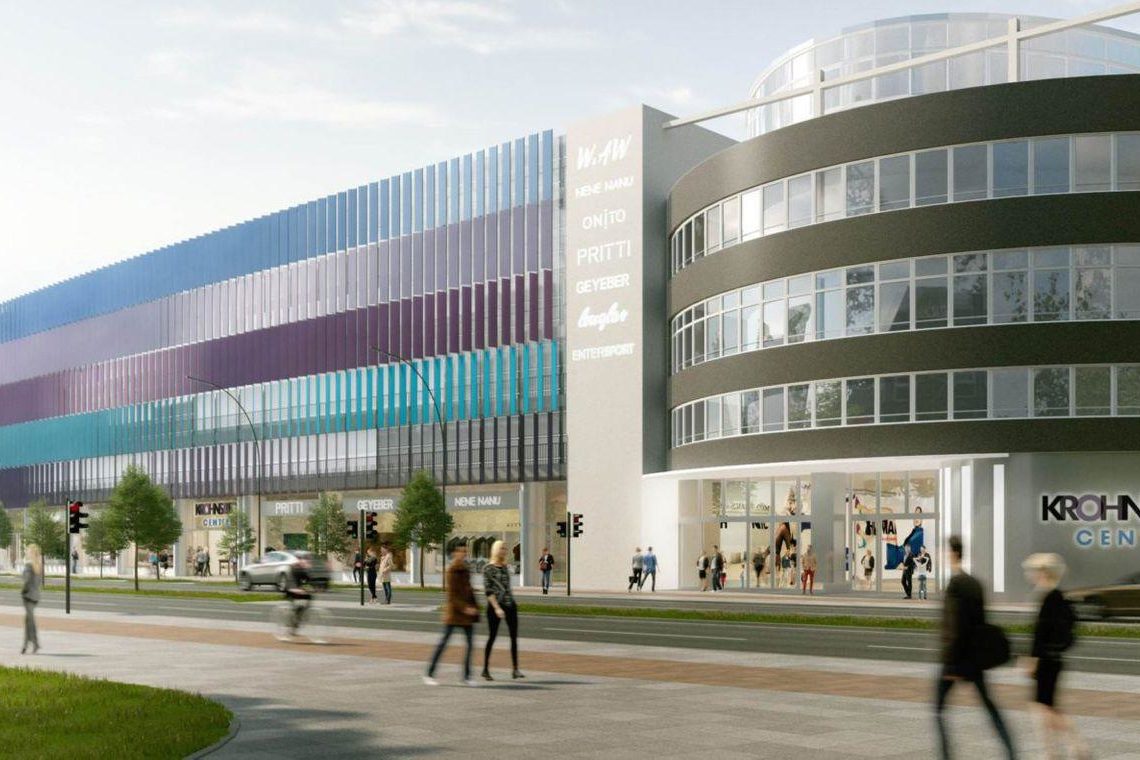 HBB concludes tenancy agreements with EDEKA Nord und DECATHLON
New visual appearance, better quality of stay and a wider offering
Neumünster/Hamburg, 13/04/2018. In 2016, "Hanseatische Betreuungs- und Beteiligungsgesellschaft mbH (HBB)" acquired the "Krohnstiegcenter" in North Hamburg in its "Langenhorn" area. This city centre then received a comprehensive modernisation from HBB, to make good the functional and visual shortfalls of the Centre. The renovation work are to begin early next year and will occur over several phases. In addition to the facades, the retail spaces on the lower level and the ground floor will be re-structured. The interior spaces will be re-designed and a better quality of stay provided for visitors. Additionally, the entrances and exits to parking spaces via the newels and the parking spaces will be optimised.
The reason for the modernisation being the expiring tenancy agreement of self-service department store "Marktkauf" of the EDEKA group. These areas about be freed up will offer the opportunity for a total realignment of the retail levels. With attractive anchor tenants, new customers may be gained and the pulling power of the Centre within the catchment area can be improved.
"We have acquired a property in an excellent location", opined Harald Ortner, Managing Director of owner-managed HBB. "Self-service department stores in this format and then over two levels are, however, not contemporary and can only survive in the market with difficulty. Therefore, we are filling the property with new concepts, reflecting what the customer today expects."
Despite the planned closure of the "Marktkauf" building, customers do not need to go without a comprehensive service offering. EDEKA Nord to be new tenant in city centre. Over approx. 2,800m2 of retail space, an attractive and freshness-oriented E-Centre will be created. Customers will find as usual a wide range of products and may choose from up to 25,000 items.
Rainer Wülbern, Division Manager for Expansion/Location Safeguarding, looks forward to concluding the new letting contract: "We have always been convinced about this site and look forward, despite the closure of the "Marktkauf" building, to offering our loyal customers a modern and experience-rich offering again in the near future. Together with other new tenants, the City's district will be re-arranged as oriented toward the future. HBB is exactly the right partner for this."
As not only local supply will get a new face. New anchor tenants will noticeably extend the previous offering. To do so, an attractive tenant from the sport or leisure sector could be acquired: DECATHLON, the French-based manufacturer and retailer of sports equipment for a total of 70 different types of sport will in future have around 2,400m2 of retail space over which to sell its goods.
More than 35,000 items can be tested in the store and tried on. Previously, DECATHLON was only present in the borough of Wandsbek, represented in the business premises, W1, created by HBB.
EDEKA Nord in profile
EDEKA Nord has its head office in Neumünster in North Germany and is one of seven cooperatively organised wholesale companies of the EDEKA corporation. With around 700 stores and an overall retail space of 785,000m2, it occupies top position in North German grocery retailing.
Its sales territory includes Schleswig-Holstein, Hamburg, Mecklenburg-Vorpommern, as well as parts of Lower Saxony and Brandenburg. With a company turnover of 2.9 billion Euros for 2016, its lead role as a local supplier will be further strengthened. The supply of its retail trade comes from the three logistics centres of Neumünster, Malchow and Zarrentin. With in-house production facilities for meat and sausage goods, as well as baked goods, EDEKA Nord guarantees "Freshness for the North".
The independent EDEKA traders profile themselves via an assortment range tailored to the demands of customers on site from brands, own brands and regional products. They stand for quality food and enjoyment. EDEKA Nord is one of the largest employers in the north, with around 5,800 employees and trains in wholesale and retail and in the production facilities more than 1,400 young people.
About DECATHLON
DECATHLON stands for joy in sport – and indeed for all sportspeople, regardless of age and ability.
With over 70 different types of sport under one roof, DECATHLON wants to make the joy of sport open to everyone. To do this, DECATHLON has settled upon in-house passion brands, exclusive sports brands that DECATHLON has developed and produced itself.
This enables DECATHLON to sell its products at particularly reasonable prices. Yet not only the prices are enticing. Own-brand products delight by their technical nature, quality, innovation and design. Not for nothing have they been given numerous national and international design and product awards. DECATHLON's R&D team develops over 3,500 innovative products each year.
The key advantage: In DECATHLON stores you can simply try out types of sport on their indoor tracks. On a regular basis, there are diving courses, bicycle rides, pony rides, inline skating courses and other offers. Children can celebrate their birthday here. Together with clubs and partners, DECATHLON subsidiary events are held, to explore new types of sport, deepen your knowledge or just to have fun.
About HBB
The HBB group of companies with its head office in Hamburg has been active in the property sector for almost 45 years as an investor and project developer. Across Germany, a myriad of retailers, offices, hotels, senior citizen and other real estate has been built. HBB considers itself to be a specialised property investor with the ambition to create long-term value. Instead of maximising short-term profit, a focus of sustainability and compatibility has been laid upon the buildings.
HBB is an owner-managed business and has access to a well-trained team of around 50 employees. "HBB Centermanagement GmbH & Co. KG" has been entrusted with other Shopping Centres, among others in Langenhagen, Gummersbach, Nidderau, Hamburg-Krohnstieg and Ingelheim.
HBB
"HBB Hanseatische Betreuungs- und Beteiligungsgesellschaft mbH"
Herr Harald Ortner
Tel.: +49 (0) 40 60 09 07 – 110
Email: ortner@hbb.de