Start of construction for Senior Citizens' Retirement Home in summer 2019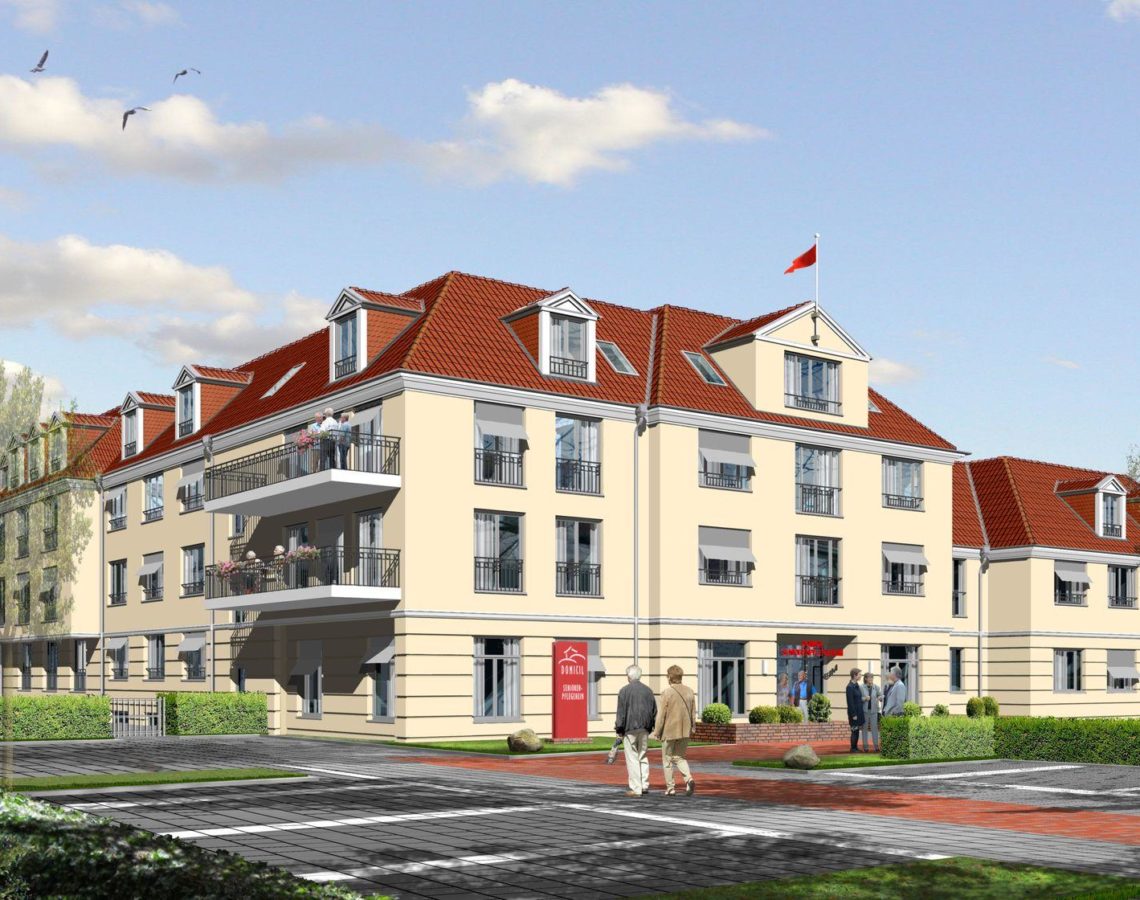 Friedberg, March 2019: The investor "HBB Hanseatische Gesellschaft für Seniorenimmobilien II GmbH & Co. KG" has appointed the building of the Senior Citizens' Retirement Home planned by them in the "Carl-Damm-Straße" to a capable building company. The successful firm, "Riedel Bau GmbH & Co. KG" from Schweinfurt will start building on-site in the summer of this year. The opening of the house is scheduled for the 2nd quarter of 2021.
In the quarter between "Mainzer-Tor-Anlage" and "Carl-Damm-Straße", where until the middle of 2011 the Dunker car dealership was based, a new building is to be created with a net surface area of around 7,500m². The new Retirement Home will then offer 133 care places to its future residents. The construction project was planned by the architects' office, specialising in care homes, "Broll & Förster" from Berlin. Clear lines and lots of daylight are the main characteristics of the two- or in some cases three-storey building, arranged in the form of a "u" with an alignment of its top-quality gardens to "Carl-Damm-Straße".
The structured architecture takes up the design vocabulary of its surroundings and should fit in with the environment. The house lives up to DOMICIL's motto, "Prime of Life". The chance for senior citizens to enjoy an attractive urban environment plays an important role for DOMICIL. The rooms will considerably exceed the minimum residential home standards and allow the residents to personalise them, if desired, by moving in their own furniture. Thanks to an in-house kitchen and laundry, care for the residents and staff is ensured. As with all DOMICIL accommodation, the house in "Mainzer-Tor-Anlage" also features a lovingly laid-out garden with selected greenery, inviting either a stroll or to linger there awhile. "The residents should get the feeling of being hidden away, with maximum security being provided," according to HBB's Managing Director, Oliver Radünz.
HBB has invested around 20m Euros in this project. Around 60 to 80 new jobs will be created.
Further information:
"HBB Hanseatische Gesellschaft für Seniorenimmobilien II GmbH & Co. KG"
Herr Oliver Radünz
Tel.: +49 (0) 40 60 09 07 – 200
Email: raduenz@hbb.de