Starting signal for the new "Viktoria Karree" shopping centre in Bochum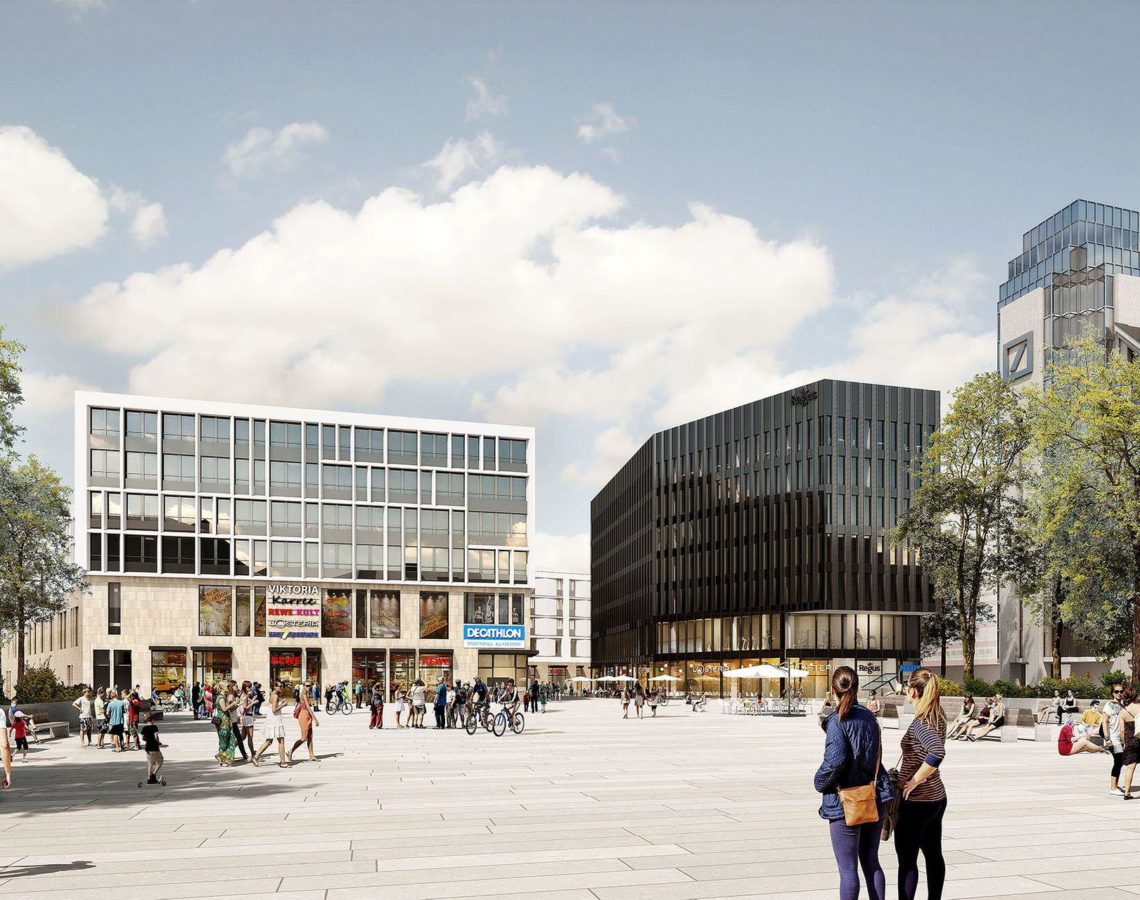 Starting signal for the new "Viktoria Karree" shopping centre in Bochum
New life for Bochum's inner city: New shopping centre on the site of the Courts building on "Husemannplatz" +++ City Council selects HBB's major project +++ Attractive blend of uses animates the City +++ Quick implementation planned +++
Important decisions made for the new project
Shortly after the Court Officials have moved out of "Viktoriastraße" in Bochum, the diggers for the development of a new business quarter can start moving in. Bochum's City Council made the decisive moves for this during its session of 26 April. The city's representatives voted by a majority for HBB's urban planning concept for its foreseen uses. After talks lasting a year on the site's future, "Hanseatische Betreuungs- und Beteiligungsgesellschaft (HBB)" can begin this year with the demolition of the inner-city district. Bochum's Mayor, Thomas Eiskirch, welcomed the building plans: "Viktoria Karree" is an important milestone in the development of the inner city. I am sure that the attractive architecture and the mix of retail, hotels, fine dining, services and leisure facilities give value to the city and definitely breathe new life into it."
Attractive business district in Bochum's inner city
"Viktoria Karree" is delightful in its own structure with its collection of buildings, that sensitively blends in with the urban surrounding of "Husemannplatz". Responsible for the planning is the internationally active RKW Architects + from Düsseldorf. On both of the first levels new trading concepts with major tenants will be created. Retailing will be complemented by several fine dining and service offerings, as well as a fitness centre. A generously-sized underground garage with around 500 parking spaces over two levels will provide space to the visitor. It will be connected to the city's underground garage system and operated by Bochum's Local Government Office, Bochum's largest parking provider. On the upper floors, flexible office space for various users will be set up. Bochum City will also be a tenant of the complex. The usage mix will be rounded off by a modern branded hotel of an international hotel chain.
Rapid implementation
Implementation of the project can now start soon. As soon as the building permit has been produced, building may start right away. Opening of the project is scheduled for 2021. In total, "Viktoria Karree" offers approx. 38,000 sqm of rental area. HBB is investing around 150m Euros in this project. Harald Ortner, HBB's Managing Director: "The planned project is an important building block in Bochum's inner city development. The entire city will experience a huge boost from the district, after years of the doldrums. I am sure that we taking steps forward with our neighbours and the city will also develop what is known as the 'Telecom Block'."
About HBB
The HBB group of companies with its head office in Hamburg has been active in the property sector for almost 50 years as an investor and project developer. Across Germany, a myriad of retailers, offices, hotels, senior citizen and other real estate has been built. HBB considers itself to be a specialised property investor with the ambition to create long-term value. Instead of maximising short-term profit, a focus of sustainability and compatibility has been laid upon the buildings. HBB is an owner-managed business and has access to a well-trained team of around 50 employees.
Further information:
"HBB Hanseatische Betreuungs- und Beteiligungsgesellschaft mbH"
Point of contact Harald Ortner
Tel.: +49 (0) 40 60 09 07 – 110
Email: ortner@hbb.de