HBB opens new shopping centre with the "Forum Langen"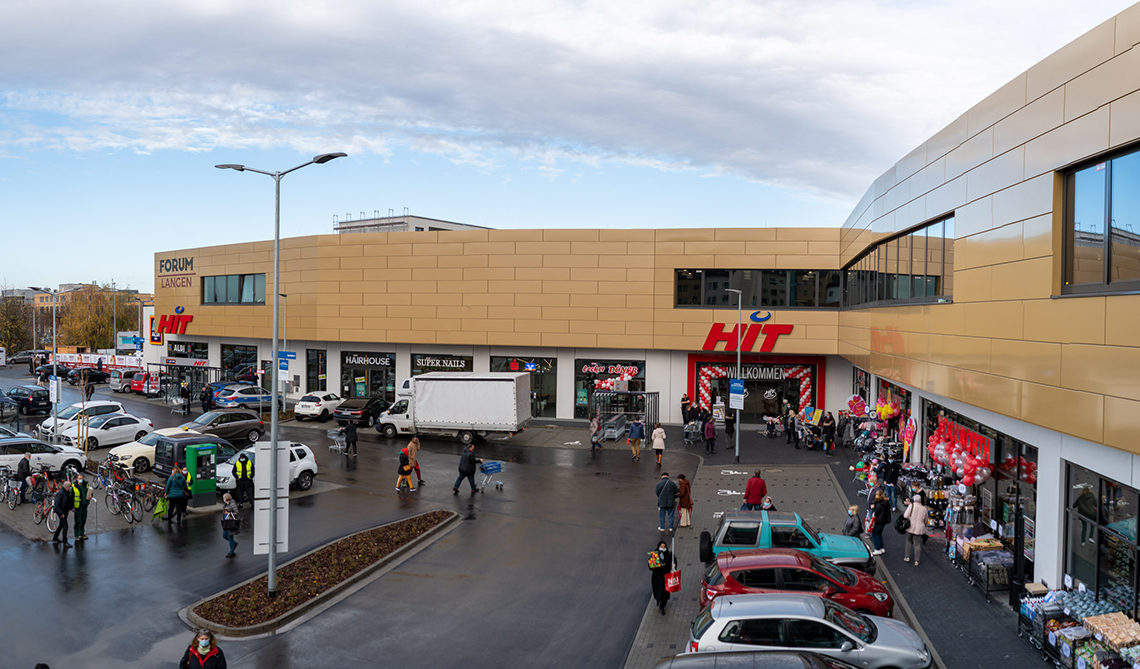 HBB opens new shopping centre with "Forum Langen"
+++ Investment volume of 25 million euros +++ 100 percent letting +++ Strong local supply with "HIT" and "Aldi" under one roof +++ Clothing stores, restaurants, department stores, fitness studios, nail salons, hairdressers and self-service – Bank branch +++
Langen, 19 November 2020 – In the southern Hessian city of Langen, "HBB Hanseatische Betreuungs- und Beteiligungsgesellschaft" from Hamburg has developed a shopping centre with the "Forum Langen" in the inner city area, which opened today. In the shopping centre developed by HBB and built by LIST AG with an investment volume of 25 million euros, shops and service providers with a diverse range of products, from food to gastronomy to department stores, can be found over around 8,800 square meters. The anchor tenant is the HIT Group with a food market over 3,200 square metres of retail space with new shop architecture and a wide range of products. "HBB Centermanagement GmbH & Co. KG" is responsible for management of the shopping centre.
"I am very pleased that we were able to implement this project here and that we can now offer the citizens of Langen a shopping centre with diverse tenants and a high quality of stay," said HBB Managing Director Harald Ortner.
Diverse tenant mix
The heart of the shopping centre, which is 100 percent let, is HIT. The grocery store serves its customers with more than 40,000 items. In addition to a wide range of fresh products, numerous regional items and organic produce, HIT ensures sustainable shopping with its selection of unpackaged foods, as well as various reusable packaging and refillable glass bottles.
The "Woolworth" department store also offers a comprehensive range of goods and has numerous offers on sale for the opening week. "Customers can also look forward to "Aldi", "Ernsting's Family", the "Fitness Level" fitness studio, the "Hairhouse" hair stylist, the "Kim Nails" nail studio, the "K + K Schuh-Center", the "Sparkasse Langen-Seligenstadt" and various restaurants", says Diana Schreiber-Kleinhenz, both HBB Regional Manager Rhein-Main and responsible for the "Forum Langen". "Unfortunately we had to forego a big opening ceremony, and due to the current lockdown, the gym and nail salon won't open until December at the earliest. All the other shops are already looking forward to customers arriving and guaranteeing safe shopping with all the necessary hygiene measures. "