Official opening celebrations for the new DOMICIL Senior Citizens' Retirement Home in "Theresienstraße"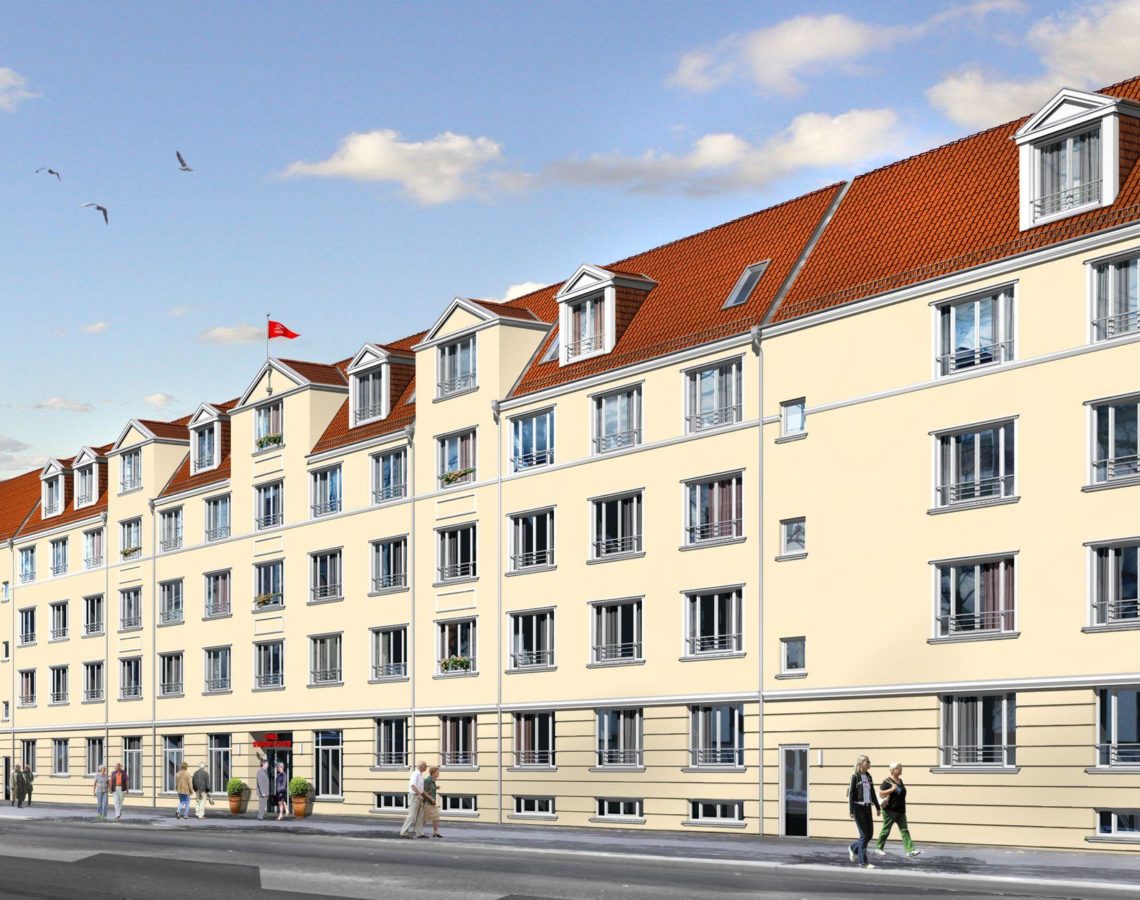 Schweinfurt, September 2018: Between "Theresienstraße" and "Luitpoldstraße", over the past eighteen months, a new Retirement Home has appeared Once an industrial wasteland for many years from being a former car dealership, this has now disappeared and a new building, to fit in with its surroundings, has been created.
On 27/09/2018, the official opening celebrations for the new house took place.
"Hanseatische Gesellschaft für Seniorenimmobilien II mbH & Co." KG as the investor has created a net surface area of approx. 9,000m², with a total of 152 of the most modern of care places. The number of single bedrooms stands at 80%. In collaboration with the operator, "DOMICIL Senioren-Residenzen SE", whose head office is in Hamburg, around 80 new and sustainable jobs have been created.
The new house lies directly to the west of the inner city in a district with a mature accommodation structure, featuring apartment complexes. Equally, the largest shopping centre, the "Stadtgalerie", can easily be reached on foot. Investor and operator attach great value to the residents staying in their "prime of life" and remaining in contact with their familiar surroundings and actively able to take part in the daily life of Schweinfurt town. By developing the brownfield site, a contribution has been made to urban development, a little bit of "neighbourhood mending" conducted, with an aim to upgrading the district. Areas neighbouring the Retirement Home are currently also being developed and converted, so that in the near future a completely new picture in this part of the district will be visible.
The prospective residents can look forward to a building of a very high standard and with a very comfortable character in total. All rooms are to have their own senior-oriented bath with a level-access shower. Additionally, there is the option to move in one's own furniture. Also, all rooms will be equipped with the most modern safety features and alarm systems.
To make the prospective residents as comfortable as possible, the new house will be equipped with an in-house kitchen and its own laundry. A hairdresser is also to be at the house. The large banqueting hall on the ground floor is a meeting place and event venue for all the residents, visitors and interested citizens from the area. Next to the banqueting hall, the newly designed garden stretches away from the house. This will captivate after its final completion by its choice of greenery and a water feature. A place for quiet and relaxation for residents and visitors.
Further information:
"HBB Hanseatische Gesellschaft für Seniorenimmobilie II mbH"
Herr Oliver Radünz
Tel.: +49 (0) 40 60 09 07 – 200
Email: raduenz@hbb.de
DOMICIL Senior Citizens' Retirement Home "Theresienstraße"
Frau Pfister (facility management)
Tel.: +49 (0) 97 21 30 29 – 0
Fax: +49 (0) 97 21 30 29 – 99