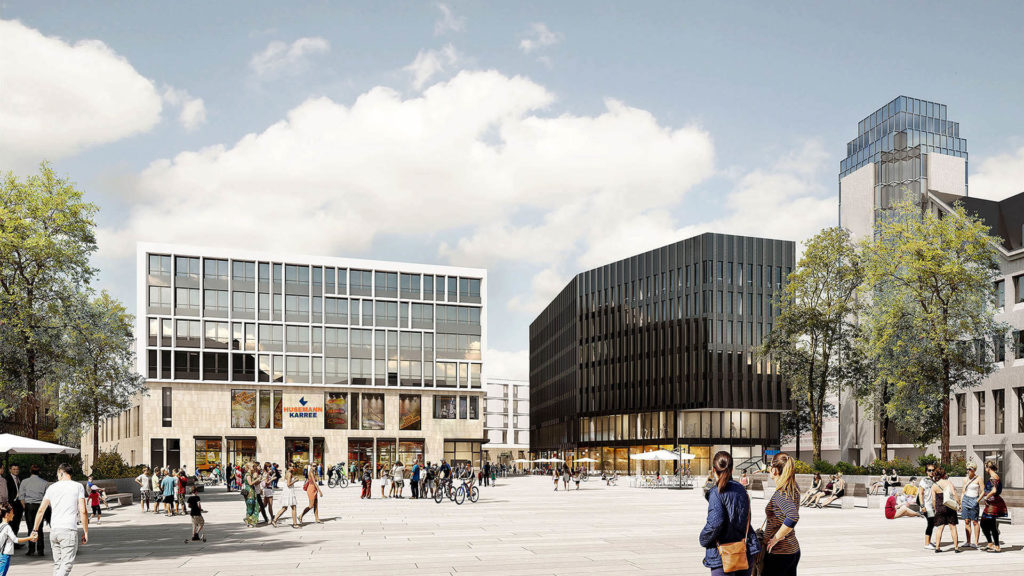 City and commercial building in harmony
In the middle of the center of Bochum, a commercial quarter is being built on Viktoriastrasse that combines several uses. On the first two levels, new retail concepts with large-area tenants will enrich the inner-city trade. The retail will be complemented by a spacious underground parking garage with around 500 parking spaces on two levels, which will be connected to the city's underground parking system. Flexible office space will be created on the upper floors for several users with different requirements. The business district will be rounded out by food and beverage outlets, services and a fitness center. A contemporary hotel enriches the business quarter for customers and visitors.
Together with the renowned architectural firm RKW, an intelligent design was created for this. The urban planning concept impresses with its open structure, which sensitively embeds the building ensemble in its surroundings. The openness invites visitors to the city center to explore the quarter, while the people working there find a central and attractive workplace.
The concept convinces with a strong architectural and urban character.
The Husemann Karree is a commercial quarter with an urban circulation with street character. In total, Husemann Karree offers around 37,500 m² of leasable space, of which approx. 21,000 m² is office space, approx. 8,000 m² is retail, service and restaurant space, as well as approx. 6,500 m² of space for the hotel and approx. 2,000 m² for a planned fitness studio.
HBB is investing around €150 million in the project, which is scheduled to open in early 2023.