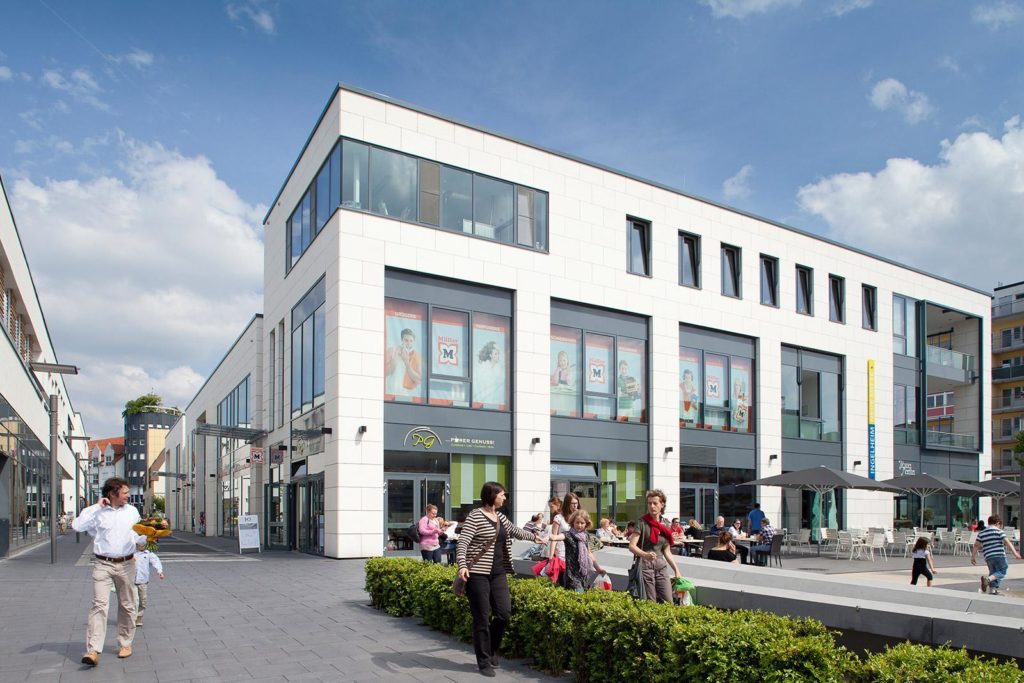 Creating a new center
Ingelheim am Rhein is known for two things: The red wine grown there – after all, it also dubs itself "the red wine town" – and the pharmaceutical company Boehringer Ingelheim, which dominates the townscape. What the district town has lacked until now is an attractive center that radiates beyond the borders of the town, combined with a square with a quality of stay. On a site directly in the city center, between the train station and Binger Strasse, HBB, in partnership with the J. Molitor company from Ingelheim, realized a retail and service center that bears the significant name "Neue Mitte" (New Center). Here, the integration of well-known names as anchor businesses has created the missing charisma.
Unusually early signing of leases
Designed by the Schwarz architectural office in Stuttgart, the new area consists of four complexes for which tenants were found at a very early stage. In addition to a REWE fresh food market with a sales area of around 3,000 m², a C&A Family Store and a Kaufhaus Müller department store are also located on two levels each, as well as a wide range of other stores from fashion to services. The office space being created on the upper floor is fully leased to the district administrator. The center was already almost 90 percent leased when ground was broken. Visitors to the center can park both at ground level and in a spacious and inviting underground garage – a total of around 420 parking spaces are available for users of Ingelheim's new center.