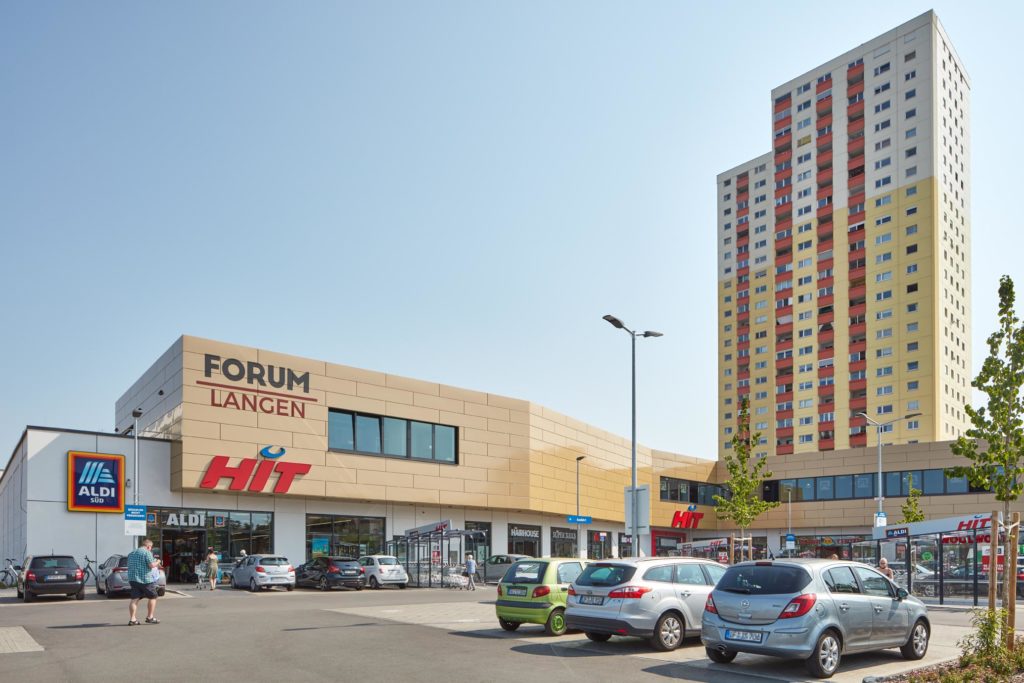 Expansion of the city center as a win-win situation
In a prime downtown location, right next to the train station of the Hessian mid-sized city of Langen, between Darmstadt and Frankfurt Airport, is a former company site of the local public utility company. The property covers a total of 17,000 m2 and had been unused for a long time. At the same time, the city lacked sufficient shopping facilities to adequately fulfill its function as a provider. The sale of the site to HBB was a win-win situation for all concerned. As the prelude to a new residential area, HBB built Forum Langen, a retail center, supplemented by a hotel and three large residential buildings with a total of around 200 apartments along Weserstrasse.
Complementing the product range, setting architectural accents
The core of the project will be the retail park with a rental area of around 8,800 m2 . In addition to a grocery store operated by HIT, the site will also feature other specialty stores – from the textile (Ernsting's Family), shoe (K+K) and household goods (Woolworth) sectors – as well as services and restaurants/cafés. Operated by HBB Centermanagement GmbH, the center sensitively complements and rounds off the existing offering in the city. The hotel with approx. 150 beds on Liebigstrasse, a parking garage on the east side and the residential development to the north serve as enclosures to the retail use. The facades and exterior areas were designed jointly with the city under an urban development contract.
HBB invested over 25 million euros in the retail use alone. The shopping center opened in November 2020 in strict compliance with the Corona ordinances in force in the state of Hessen.