"Viktoria Karree Bochum" is taking shape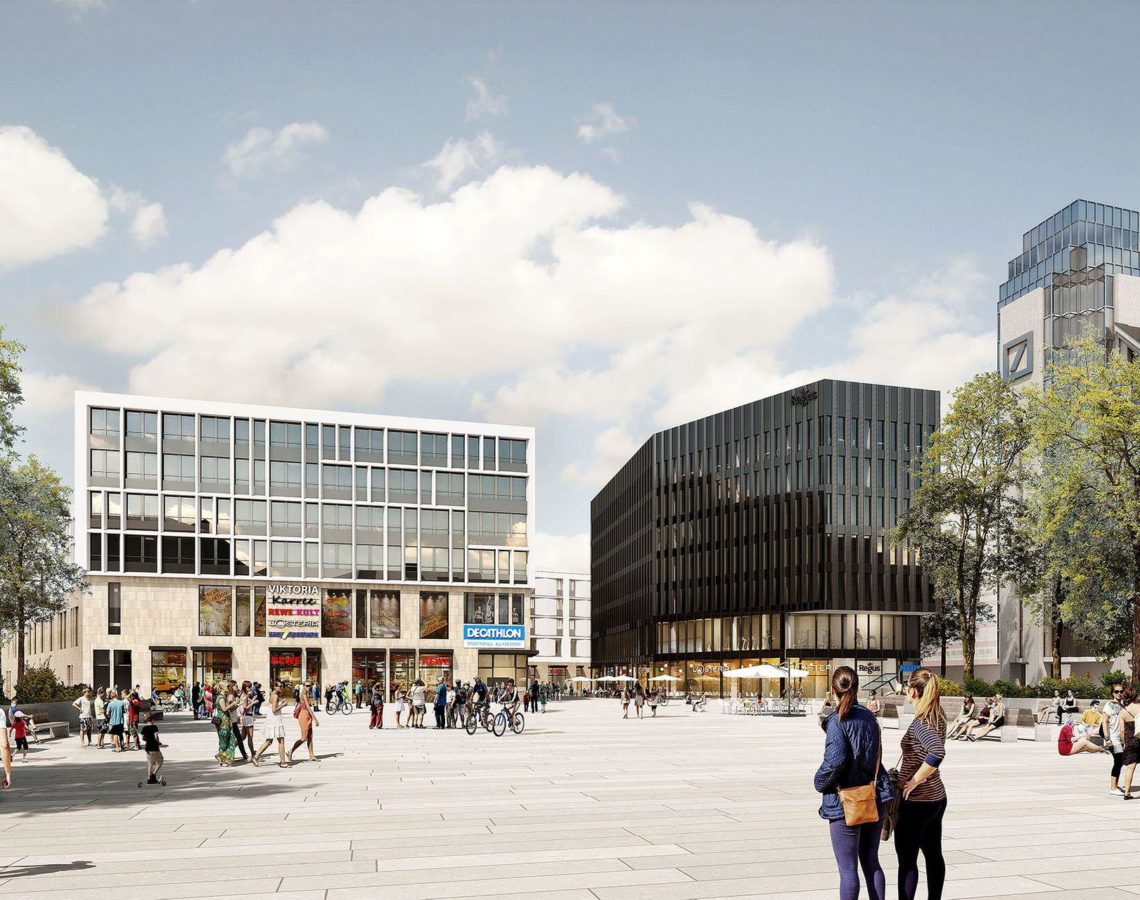 Business Quarter with many more tenants for the City
Completion of demolition and start of the high-rise construction for the new Business Quarter +++ HBB settles on team solutions instead of general contractors +++ The inner city's flagship project is almost fully let
Start of construction of the Business Quarter by HBB
The complex renovation and the onerous demolition of the Courts building have already been completed and construction of the new Quarter has begun – as originally planned – in recent days. The Moß company that was responsible for the demolition has handed over the construction site to a consortium of the companies, "August Prien" and "Hans Lamers", which will construct the shell. Facades are to be built by the "Medicke" company. Despite the Corona Pandemic, up to now the construction work has been on schedule.
Major project for HBB
"Viktoria Karree" is an excellent example of a mixed-use Quarter in the inner cities of large towns. Divided into three components and seven floors, 38,000m2 of rental space, plus an underground garage, are to be built. The building complex opens onto "Husemannplatz" with its open structure, which the City is to convert over the next two years in accordance with the building project. Even though HBB has developed and built countless other projects, "Viktoria Karree" represents, due to its size and significance, a special project for the City. For HBB's Managing Director, Kai Steindl, who has taken over overall technical responsibility, now the scheduled completion for 2022 is uppermost in his mind: "We have assembled a really strong team and have been supported wonderfully by the City during the conversion. Tenants are already looking forward to moving in."
New tenants, giving a great atmosphere to the inner city
At the start of construction work, HBB has already let over 90 percent of the overall space. It was already known that Bochum City would rent around 15,000m2 of the office space. In addition, from the internationally-active Co-Working provider, Regus, a further need for 3,000m2 approx. of office space was acquired. The Tristar Group from Berlin will open a hotel with 170 rooms under the "Holiday Inn Express" brand. On both of the two lower levels, retailing, leisure and fine dining will predominate. In this way, the French company, Decathlon, will open a large sporting outfitter. To supply the Quarter and its environs, REWE Dortmund will operate a fresh-produce food market. At the "easyApotheke", customers can soon find everything with a healthy living theme. "Görgens Group" from Cologne will have a large selection of streetwear fashion on offer. In addition, the diverse gastronomic offerings will enrich the Quarter and the neighbouring "Husemannplatz". With a surface of over 1,000m², a "Food Lounge" with various international offerings will be introduced. Even more fine dining will come to the junction of "Husemannplatz" and invite customers also to linger on a generously-sized outer terrace to relax.
About HBB
The HBB group of companies with its head office in Hamburg has been active in the property sector for 50 years as an investor and a project developer. During this time across Germany a myriad of retailers, office, hotels, senior citizen and other real estate has been built. HBB considers itself to be a specialised property investor with the ambition to create long-term value. Instead of maximising short-term profit, a focus of sustainability and compatibility has been laid upon the buildings. HBB is an owner-managed business and has access to a well-trained team of around 90 employees.
Further information:
"HBB Hanseatische Betreuungs- und Beteiligungsgesellschaft mbH"
Point of contact Harald Ortner
Tel.: +49 (0) 40 60 09 07 – 110
Email: ortner@hbb.de