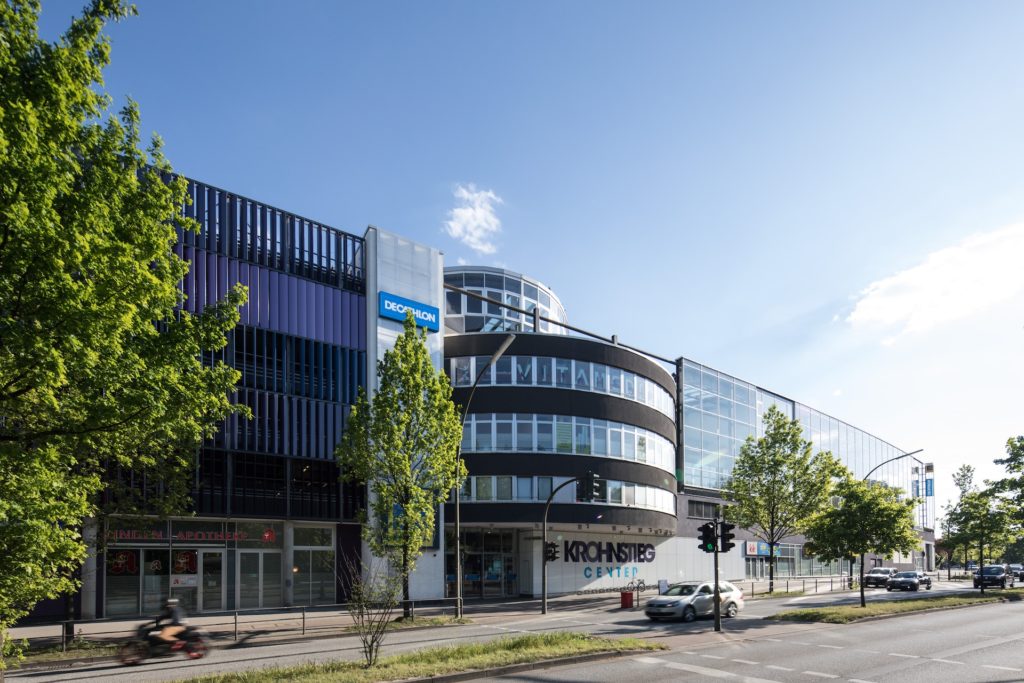 Modernization during operation
In the north of the Hanseatic City of Hamburg, between Fuhlsbüttel and Norderstedt, lies the green and livable district of Langenhorn. Its approximately 45,000 residents mainly use the Langenhorn Mitte district center, which is oriented along the Krohnstieg road, for their shopping. This includes the Krohnstieg Center, which opened in 2004 and offers around 18,000 m² of rental space on its five floors. HBB acquired the property in mid-2016 and has also been operating the center management since then.
This district center has now received a comprehensive modernization by HBB to eliminate the center's functional and visual deficits. The remodeling work began in the first quarter of 2019 and took place in several phases. In addition to the facades, the retail areas in the basement and first floor were restructured. The interior areas were redesigned, creating more places for visitors to stay. In addition, access and exit to the parking spaces via the spindle and the parking spaces were optimized.
Successive restructuring and optimization
New anchor tenants are the EDEKA Center on approx. 2,800 m² of retail space and the French sports and leisure outfitter Decathlon on approx. 2,400 m² of retail space, which had already opened their doors to visitors during a partial opening in Q2 2020. The upper floors are home to a fitness center, numerous medical and health practices, offices, the Hamburg district office and a well-frequented parking garage with around 424 free parking spaces.
The reason for the modernization was the expiring lease of the self-service department store Marktkauf of the EDEKA Group. The space that became available offered the opportunity for a complete realignment of the retail levels. Attractive anchor tenants were able to attract new customers and strengthen the center's appeal in the catchment area.
The conversion work was completed in spring 2021.